What is ephemera?
The term ephemera, according to the Oxford English Dictionary online, has Greek origins, translating to 'lasting only for the day'. This helps to explains a truly diverse area of the Library's collection that encompasses advertising flyers, cards and invitations, programs, tickets, electoral material and any other item produced for temporary use.
Belying the name ephemera, though, many of these items have continuing importance, offering insights about a society or culture at a particular moment in time. The State Library of NSW has a longstanding commitment to collecting ephemera relating to any aspect of life in NSW.
Want to know more about ephemera? Visit the website of the Ephemera Society of Australia.
Where can I find ephemera?
Due to the varied nature of material that could be classified as ephemera, it appears in a few different places in the Library's collection. The Library has a dedicated ephemera collection, which is still growing. You may also find examples of ephemera in items such as scrapbooks, which are found in our manuscripts collection.
---
The ephemera collection
The Library's ephemera collection comprises over 1000 boxes, including about 30 catalogued as sports ephemera. The boxes are arranged by subject and then chronologically, often separated into time periods, eg. Box 2a, Cycling (pre-1990).
Access to the ephemera collection requires a Special Collections card, and requested material will be issued in the Special Collections area of the Mitchell Library Reading Room. Ephemera can be requested through the Library catalogue or via an Access to Special Collections Request form.

Collection of ephemera on sports, outdoor games and leisure activities. Box 2: C (Pre-1990)
Scrapbooks in manuscript collections
As discussed on the scrapbooks page of this guide, scrapbooks often contain multiple formats. In addition to news clippings, notes and photographs, they may contain nominally ephemeral items that interested the scrapbook's curator. The scrapbooks of Harold Matthews, secretary of the NSW Rugby League, for example, feature match tickets, dinner menus, luggage tags and even beer labels.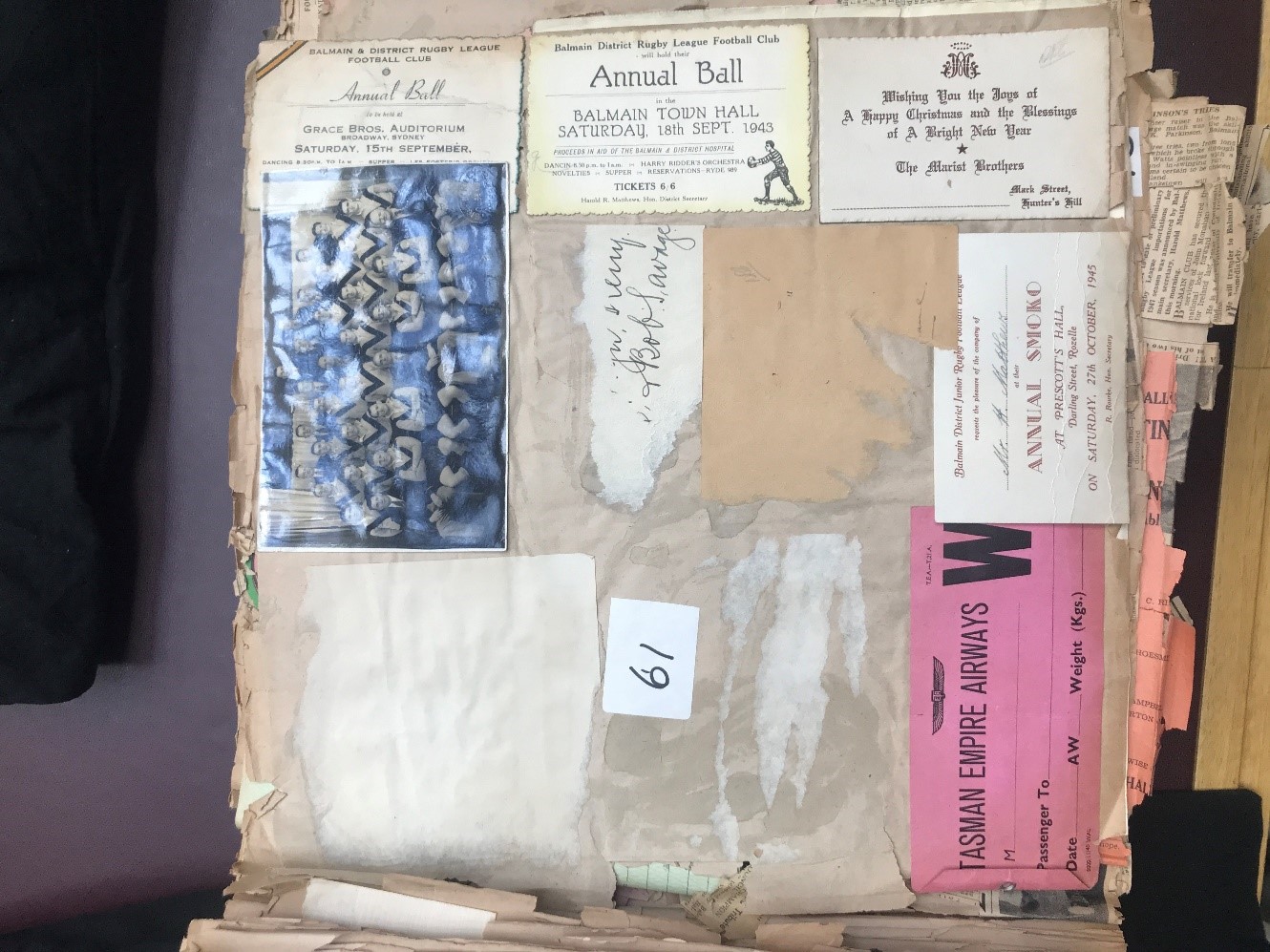 Harold Matthews scrapbooks, 1923-1946
Arrangements like this tell us something about the person collecting the ephemera, as well as the society they lived in.
Building our collection
Do you have any ephemeral items that might belong in the Library's collection? We would love to hear from you. Get in touch by completing our Collection Offers form.
For more information on our collections, visit the Building Our Collection page.